Sijeesh IELTS/PTE/TOEFL/OET Trainer Kalyan Nagar, Bengaluru, Karnataka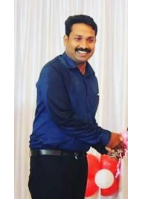 Confused? Let us help you!
Sijeesh have been Training students & professionals for IELTS/PTE/TOEFL/OET and other ESL Training from more than 10 years. He has experience working as head in many Academic institute heads. He has also got the Best Train the The trainer Award.
1. IELTS
2. PTE Academic
3. Communicative English
4. Spoken English
5. Finance
6. TOEFL
7. OET for nurses
8. OET
Education

:

MA

Expertise

:

Software, Advance spoken communication skills, soft skills, IELTS, TOEFL

Professional Experience

:

2 Years

Modes Of Training

:

Online Tutoring, Skype/ Hangout, Coaching at Institutes

Demo Classes

:

Free, Not Paid

Boards

:

State, International Baccalaureate

Subjects Taught

:

IELTS, TOEFL, GRE, GMAT, PTE

Language Proficiency

:

Speaking | Writing, Speaking | Writing

Fees Structure

:

500/hour

How to Contact?

:

Email, Mobile, WhatsApp

Willingness to travel for Tuition?

:

Yes
Confused? Let us help you!