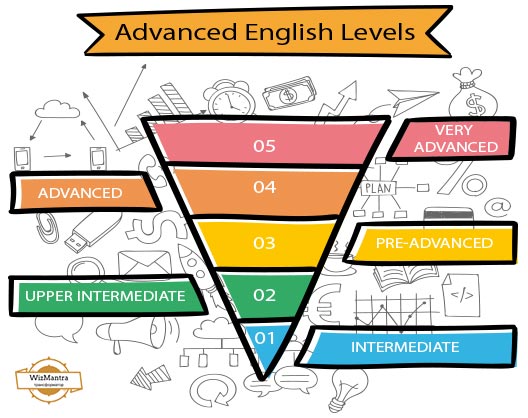 Intermediate Advance English Speaking Courses
Looking for ways to hone your English Communication skills? Planning to take that next big leap to a promising career?
Searching for an authentic resource to help you attain those unbelievable heights you ever dreamt of?
Ideal for people who hold office jobs, Advance Spoken English language course is designed and curated to give the users a competitive edge over their peers in the workplace. It equips the user with the much-needed communication skills, which is an essential tool for his/her own personal as well as professional growth. Developing your communication skills is the most important thing one should do to develop one's career and further his life ambitions. Fees Structure:
Students from outside India should check pricings at
WizMantra.org
Empty tab. Edit page to add content here.
Syllabus/ Modules Covered in Intermediate Advance Courses

Advanced English Fluency Lessons (

Part of 1 month program

)
Power Talk Advance Communication Techniques (

Part of 1 month program

)
Intermediate Advance Grammar Concept & Auxiliary Verbs (

Part of 1 month program

)
Never Ending Advance Speaking Techniques (

Part of 1 month program

)
Spontaneous Speaking & Round Table Speaking. (

Part of 1 month program

)
Situational Conversation & Class Presentation Practice (

Part of 1 month program

)
Advance Theory of Communication Skills (

Part of 2 months program

)
Basic Art of Writing & Business Letters etiquettes (

Part of 2 months program

)
Core of Leadership Skill Training ( Part of 3 months program )
References Professional Bio-Data Preparation (

Part of 3 month program

)
100% Customized modules (

Customize according to your level & needs

)
Check here for our sample advance English syllabus (

Glimpse of how you can customize

)
Why you should Enroll for Intermediate Advance English Communication Courses?
Want to become an effective manager
Manage and establish a strong conversation with peers from abroad.
Frame Grammatically correct sentences in English
Deliver effective presentations and improve the quality of e-mails
Develop a strong and fluent pronunciation skills
To improve Interpersonal as well as Interpersonal skills
Leave a strong and lasting impression on your peers
Learn to prepare effective presentations for meetings
Learn advanced workplace vocabulary
You're qualified. You're eligible. You're smart. Yet, your peers capture the whole presentation and meeting with their effortless and strong English Communication Skills. You're held back by your own hesitation which makes you fumble with your presentation. Your confidence level and the command over the English language can match your status, it can turn you into a charming personality and a smooth talker.
See this second scenario, just imagine yourself sitting in front of your prospective employer, the next big job, much needed with all those talents and unmatched skills up your sleeves. But just one thing, you don't have the proper words to let the employer know about those qualities. You'll go unnoticed and probably the job will be passed on to a person having better communications skills than you have! WizMantra can be your guide to alter your personality entirely with the Advanced Spoken English Course.
WizMantra offers this custom-tailored course while keeping in mind the needs of communications skills required in a business setting. The entire training module features the workplace communication techniques in English, making the individual understand the nuances of making effective business presentations, participating in meetings and interviews while acquiring basic business writing skills.The training sessions help the users improve and enhance Business English vocabulary and learn how to use phrases for varied purposes like business letters, presentations, interviews, negotiations, telephone conversations, meetings, emails, group-discussions, and marketing.
English for Business courses allow you to quickly improve your general English fluency, as well as focusing on effective communication in business contexts. Business English Courses help you deliver your thoughts lucidly in your workplace and communicate with on-site professionals in neutral English. These courses also make you capable of understanding the accent of UK/US based clientele and converse with them without any glitches.
The ever-changing environment of business landscape together with blurring global boundaries, culture, and language, these days, plays a very dominant role in every corner of the world and at every level of business. India is no exception to this fast emerging trend.
India is one of the fastest growing economies is attracting huge foreign direct investments (FDI). This brings in investments from companies all around the world. Thanks to the emergence of newer economies, the presence of newer opportunities, the corporate sector has been the most welcoming when it comes to employing people from different cultures and countries. Due to the changing economic circumstances, rapid growth led by better policy-making decisions, statistics show that India climbed one notch to attain the 9thposition on FDI inflows list in the year 2016, where the United States retains the top spot. These factors all the more give one a reason to master the global business language- English; which a much-needed aspect if one wants to survive in this competitive world.
While the corporate world believes that by employing multi-lingual people, they can create a cosmopolitan culture within their organization; individuals must also understand that they must make themselves suitable for such a broader work culture. It has been found that language skills are useful in various business scenarios like customer service, sales, business development, etc.; it has now become a mandatory component if a person wants to become a global corporate citizen.
Thus, it can be said that one skill that can make or mar your chance of success in a corporate world is the level of Spoken English. While English continues to be a dominant language in the world of business, the language is yet to be spoken proficiently by most of the workforce. In a recent report, nearly 63 percent of the organizations claim a gap in critical English skills when it comes to hiring a suitable candidate for the job. As in many cases, it has been found that the employee may have some level of fluency when it comes to conversing in English, but there is always a scope for improvement.
In this digital era where content is called the king, English is termed as the lingua franca. From corporate world to social media existence, English dominates the Internet. Therefore, not only speaking but writing and conversing well-enough for the other person to understand is as important.
Check glimpse of Advance English syllabus & How Advance English Trainers can help?
It is a known fact that organizations expect their employees to gain mastery by developing an industry-specific terminology; an employee can at least try to bridge the gap by gaining competency with workplace – specific words and phrases in the English language. Training the employees in the domains such as Communication, Email etiquette, Telephone etiquette and listening skills can help the organization to reach new milestones. This results in an attitude which can take the employees to a global level for representing their organization, thus benefitting the Indian Economy.
Drop your details to know more about our classes
WizMantra WorldWide

Website Review

Google Reviews

Number of Students

Trained, Number of Trainers