I am Snehalata Diwakar. I am an MBA graduate specialized in HR & Marketing from one of India's top institutes. I believe that sharing knowledge is the best deed that one can do. With a passion for sharing my knowledge and experience, I began taking up Spoken English classes at different levels.
I have been successfully handling online classes helping clients/students improve their speaking skills and enhancing their confidence for over 4 years now.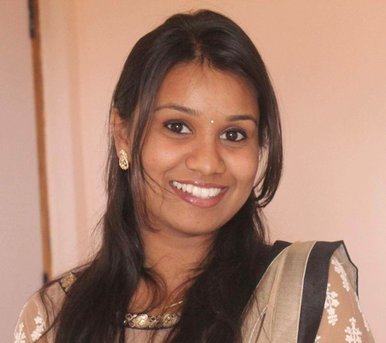 I've worked as a marketing officer, operations & marketing manager and as digital marketing manager. This experience has enabled me gain knowledge and has helped me understand how organizations work at different levels. Although it was great working with organizations based in India and in the US, I had an inclination towards teaching or rather 'knowledge sharing'.
I have conducted spoken English classes for over 4 years and it has been a memorable journey so far. I have enjoyed taking up classes for various types of clients, be it at the beginning, an intermediate or an advanced level. To handle different kinds of clients and address their requirement is something I enjoy the most. That's because it is challenging to drive someone towards the result they had always dreamt about.
It gives me a great deal of happiness when I see my clients climbing up the scale from one level to the next.
I have learned from my experience that we have adapted ourselves very well to the ever growing technology. Clients insist on online courses than spending their valuable time traveling around in hunt of a good communication trainer. It has made my life so much simpler with the easiest way of conducting classes without any hassle.
During this journey, WizMantra has very vividly played a vital role in providing me the opportunity in fulfilling my dream. I'm thankful to WizMantra for always keeping me on my toes. It has given me a chance to build my training skills and improvising the techniques with each client. Looking forward to building a stronger bond with WizMantra students in future.
Save