Harshit CAT, SAT, GRE GMAT Exam Tutor Rohini Delhi
January 2, 2020
Comments Off

on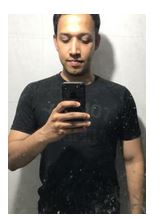 Confused? Let us help you!
Harshit has experience in CAT and AFCAT thrice and clearing CAT written exam twice. He is well versed with exam patterns for CAT, SAT, GRE & GMAT and he is helping students to prepare for these exams from last 2 years.
He is passionate about teaching students for these competitive exams-
1. CAT
2. AFCAT
3. SAT
4. GRE
5. GMAT Quantitative
6. SAT Maths
Expertise

:

CAT, SAT, GRE, GMAT Exam Preparation

Professional Experience

:

6 Years

Modes Of Training

:

Tuition at Home, Online Tutoring, Skype/ Hangout, WebCam, Coaching at Institutes, Individual Classes, Group Classes

Demo Classes

:

Free, Not Paid

Subjects Taught

:

UGC NET English, Maths, GRE, GMAT, PTE

Language Proficiency

:

Speaking | Writing

Fees Structure

:

INR 900/hour

How to Contact?

:

Email

Willingness to travel for Tuition?

:

Yes

Classes for Kids/Children

:

No

Available Locations

:

Rohini, Delhi

Training Near by Coaching Institutes

:

Yes

Online Teaching Experience

:

2 Years

Languages Known

:

English, Hindi, Punjabi
Confused? Let us help you!