Meghna GMAT GRE Trainer IndiraNagar, Bengaluru, Karnataka
December 10, 2019
Comments Off

on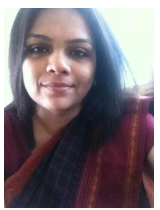 Confused? Let us help you!
Meghna has more than 20 years of experience in teaching students for GMAT, GRE, Spoken English, Literature & Gender Studies. She always adopts for practical level of approach for training students. She is into taking online classes for 12 years.
1. GMAT Verbal
2. GRE Verbal
3. English
4. Literature
Education

:

PhD (English)

Expertise

:

Software, Advance spoken communication skills, soft skills, GRE, GMAT

Professional Experience

:

Assistant Professor

Relevant Experiences

:

12 Years

Modes Of Training

:

Online Tutoring

Demo Classes

:

Free, Not Paid

Subjects Taught

:

Regular English, Spoken English, English Communication Skills, SoftSkill & Personality Development, Literature, GRE, GMAT

Language Proficiency

:

Speaking | Writing, Speaking | Writing

Fees Structure

:

1000/hour

How to Contact?

:

Email, Mobile, WhatsApp

Willingness to travel for Tuition?

:

Yes
Confused? Let us help you!