Mahalakshmi German Trainer Tambaram East Chennai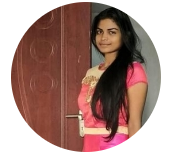 Confused? Let us help you!
Mahalakshmi is a BTech from Anna university in Electronics and communication. She completed her German certification of A2. She is a IT professional and passionate about teaching German to students and professionals.
She loves to take German classes from her home.
1. Interactive Training.
2. Effective One-on-One Communication
Education

:

B.Tech/B.E. (Anna university - 2015)

Expertise

:

German Tutor

Professional Experience

:

4 Years

Modes Of Training

:

Tuition at Home, Online Tutoring, Skype/ Hangout

Demo Classes

:

Free, Not Paid

Boards

:

State, IGCSE, International Baccalaureate, ISC/ICSE, CBSE

Subjects Taught

:

Language Proficiency

:

Speaking | Writing, Speaking | Writing

Fees Structure

:

200/hour

How to Contact?

:

Email, Mobile, WhatsApp

Certifications

:

A2 Certification in German

Willingness to travel for Tuition?

:

No
Confused? Let us help you!